Book the best Escape Games and Rooms online
Discover the best selection of Escape Rooms and Missions and experience an exciting Escape Game adventure in Zurich and Winterthur.
The best Escape Games in Zurich and Winterthur
Escape Rooms
Im Team von 2-6 Personen seid ihr in einem geheimnisvoll eingerichteten Escape Room eingeschlossen. 60 Minuten habt ihr, um Hinweise zu finden und Codes zu entschlüsseln, bis das letzte Schloss geknackt ist und sich die Tür des Raumes öffnet.
Wähle deine Location:
Urban Missions
Die URBANmissions werden ohne Personal mit eigenem Smartphone oder Tablet gespielt. In Teams von 2-5 Spielern bekommt ihr einen kniffligen Auftrag, den ihr in einer bestimmten Zeit erfüllen müsst. Ihr begebt euch nach draussen oder in die öffentlichen überdachten Räumlichkeiten. Bei Hotel Missions müsst ihr ein ganzes Hotel durchstreifen.
Wähle deine Location:
URBANevent Game
Das Spiel kommt zu euch. Die Teams von 4-5 Personen müssen innerhalb von 60 Minuten viele lustige Rätsel lösen. In unseren Partner­hotels wird das Spiel mit Kulinarik kombiniert. Gleichzeitig können bis zu 200 Personen spielen. Alle Teams spielen in einem grossen Raum und müssen die gleichen Rätsel in verschiedenen Reihenfolgen lösen und spielen gegen einander.
Wähle deine Location: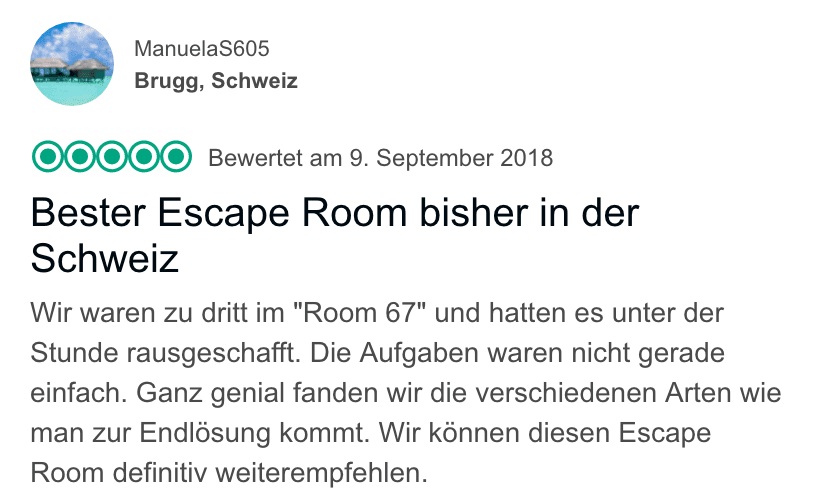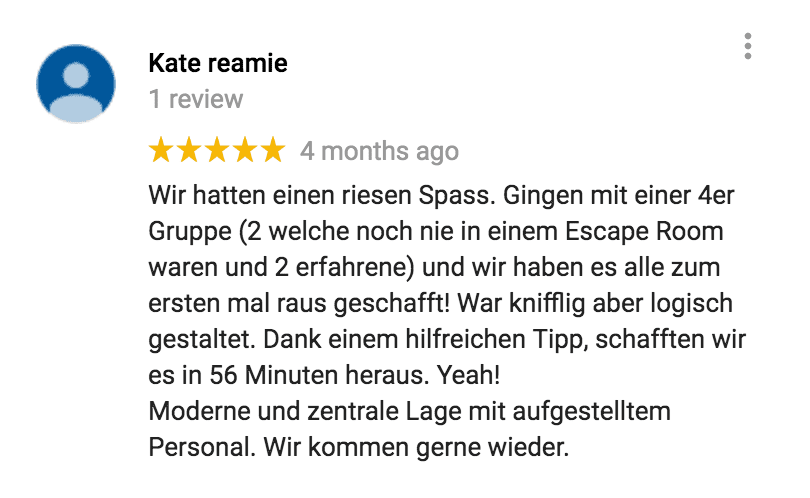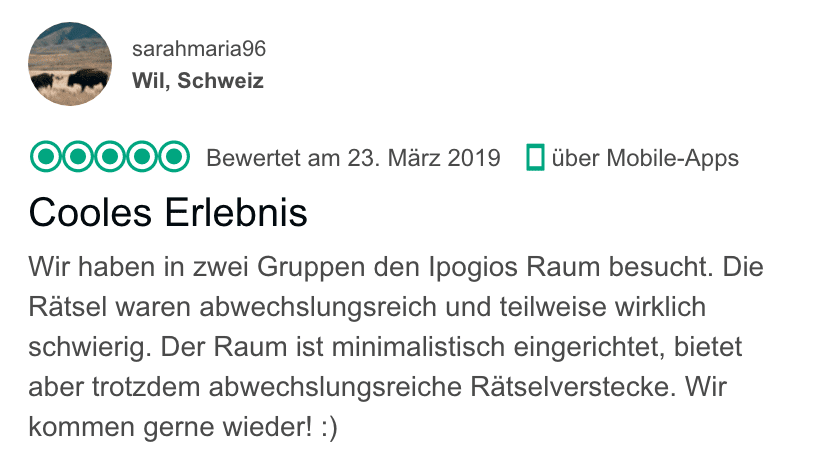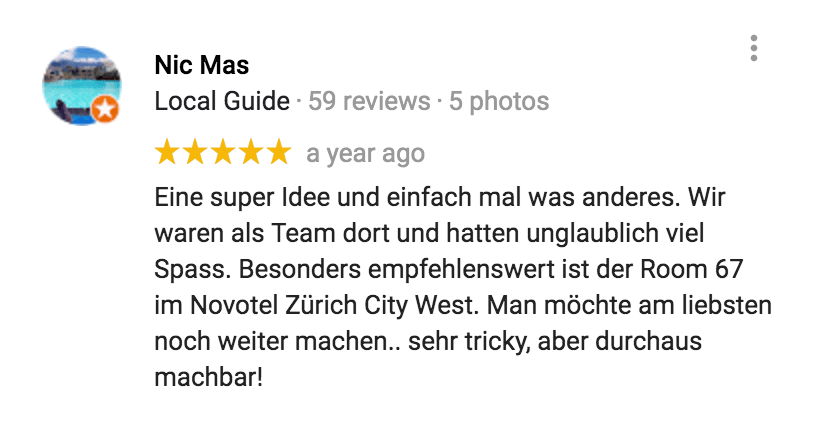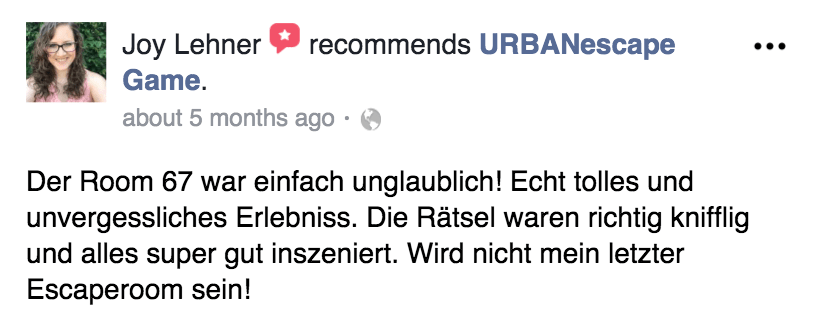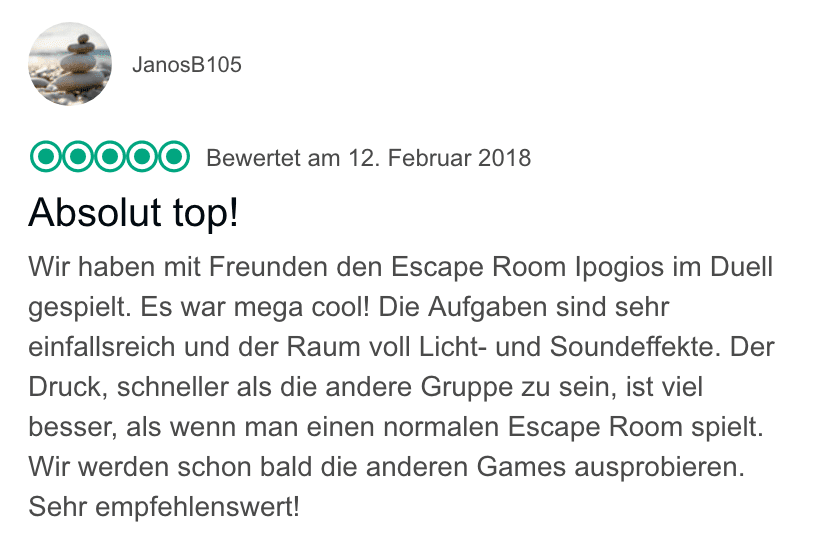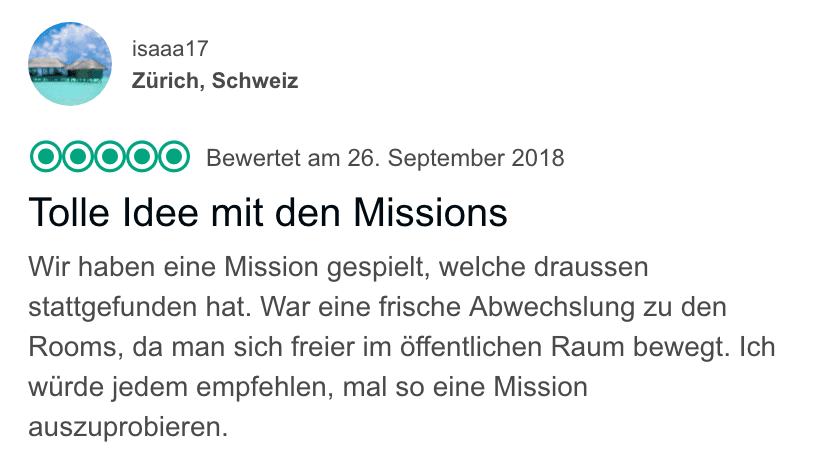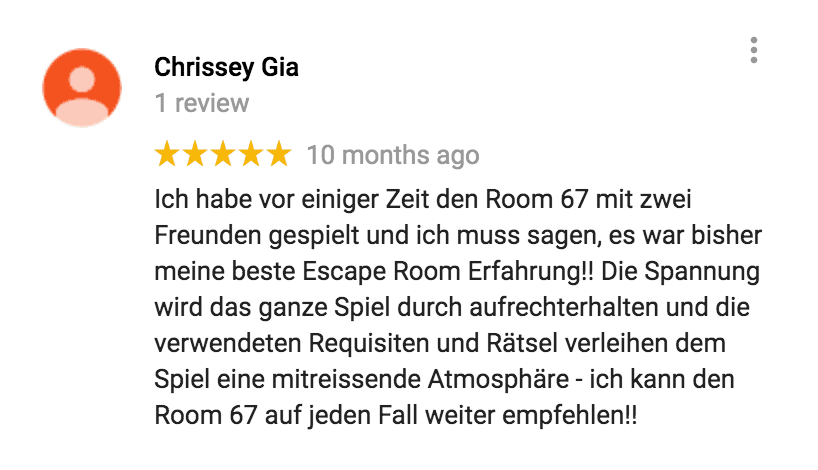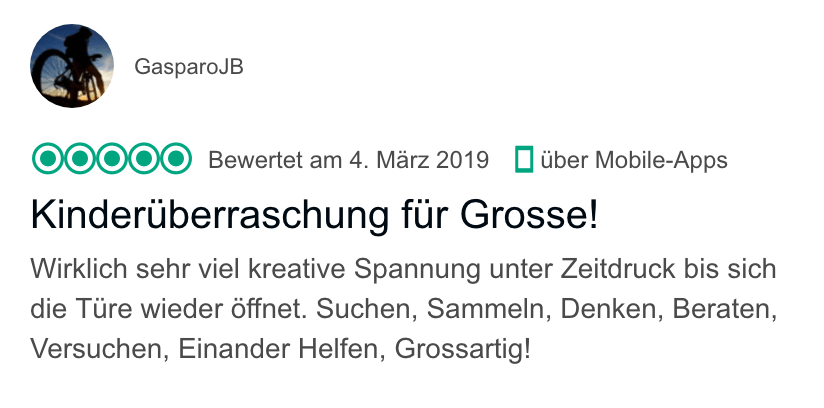 FAQ
Frequently asked questions about Escape Rooms and Missions
What is an Escape Room? What is an Escape Mission?
Missions are different from Escape Rooms: You won't be locked inside a room to find your way out. You will receive a mission assignment that you need to complete.
This quest doesn't take place at URBANescape, but instead in close proximity in the public. You'll receive a map where you'll find the right starting point for your mission.
When you've arrived at the starting point, you'll start solving a variety of different riddles and tasks. You have 60 minutes to solve all puzzles, just like you'd have in an Escape Room. You have additional 30 minutes for the way there and back. Thus, the entire game duration is 90 minutes.
All missions take place in roofed public areas, so you can play them with any weather. Only our Outdoor Missions take place out in an open space without a roof.
Which games are more difficult, Escape Rooms or Missions?
Most groups who have played both game types find Missions to be a bit more difficult.
And the average game time confirms this: lots of groups manage to solve all parts of their assignment, yet they finish the tasks after their time is up.
Therefore, we'd recommend starting out with an Escape Room, and proceeding to Missions when you have your first game under your belt.
Can I show up spontaneously or do I need to book my game in advance?
Unfortunately, we can't accommodate spontaneous appointments without a booking at URBANescape. You always need to book your game in advance. You can book a game up until 24 hours in advance directly online. For last-minute bookings (less than 24 hours before the game) please contact us directly.
How can I change or cancel my booking?
You can cancel or change your Escape Room or Mission booking up until 48 hours before the game starts. All changes are subject to availability.
For Outdoor Missions, you can cancel or change your booking up until 5 hours before the game starts in case the weather is bad. No cancelation fee will be charged in this case.
We only accept written cancelations or changes to bookings. Therefore, please get in touch via e-mail.
Please note: For no-shows, we reserve the right to not refund your payment.
When should we arrive before the game starts? What happens if we're late?
It is important that you arrive 10 minutes before the game appointment starts .
Before the game, we'll do a briefing about the story behind the Room and explain the game rules to you. Also, this is the last opportunity to visit the ladies' or gents' room before the game starts.
We have a set daily schedule that we need to follow. Therefore, if you arrive late, we can't postpone your appointment to end later. Thus, the later you arrive, the less game time you have to play.
Can we organize a private event at URBANescape?
Whether it's for team building, a bachelor(ette) party, or a birthday party – we're happy to help you organize a fun, private event with us!
The only condition is that you need to book at least two double game appointments in our Escape Rooms. This means that both Rooms are played simultaneously for the first round, then both again for the second round. During the break between both game rounds we're happy to serve you an apéro with some delicious refreshments in out Chill Out Café if you'd like.
Please contact us directly for more details and to inquire a booking.
Can I play in English?
Foreign language speaking groups are very welcome at URBANescape! All our staff speaks English.
At least one team member must speak English to understand the game instructions and to explain them to the other players.
The Escape Rooms themselves don't require any language skills. However, with Missions you should have solid English skills since all of the mission assignment tasks are in written form.
Are the Escape Room games scary, dangerous, or frightening?
Not at all. The most important thing about all of our games is that you're having fun – you won't find any scary or horror elements in our rooms.
The games consist of riddles and puzzles that you must solve to make it out of the room. The adrenaline rush comes from the 60-minute time constraint for solving all the puzzles.
Every Escape Room game is supervised and monitored by our Game Master. Should you start feeling anxious or claustrophobic, you can quickly get out of the room at any time.
More questions?
You'll find more FAQs here:
Gift Cards for Escape Games
Give a present that's an adventure packed with excitement and fun with friends or family
Our top gift idea
Give a present that's 60 minutes of pure fun and excitement – all in one neat package! Out Escape Game Gift Card is the perfect surprise for any occasion: birthdays, Christmas, weddings…
Order directly online – we'll send your gift card to either you or directly to the person you want to give the present to. Start here!
Escape Games
Regardless of whether you have strong or weak nerves, our Escape Rooms und Missions have something for everyone to choose from.
Give a gift that's an exciting time together with family, friends, or colleagues and let the person who receives the gift card pick the game they'd like to embark on an adventure on.
Team ­Building and Company Events
Team­ Building with Escape Games
Get to know your team or your colleagues from a whole different perspective!
We at URBANescape have had the pleasure to welcome a wide variety or businesses to a team building event and we've supported diverse teams with improving their team spirit and the overall experience of working together as a team in everyday business.
"Wir hatten Super Spass im Team! War mal was ganz anderes als Firmenevent, aber zu empfehlen!"
- S. Schneider / Mikrona Technologie AG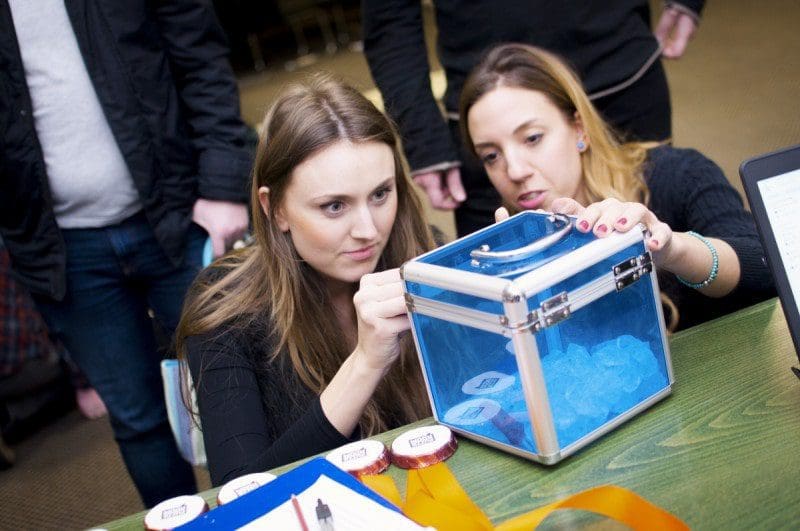 Interested in a company event or a strategy workshop?
Find out more in our B2B section here:
Telefon und Email:
043 317 19 19